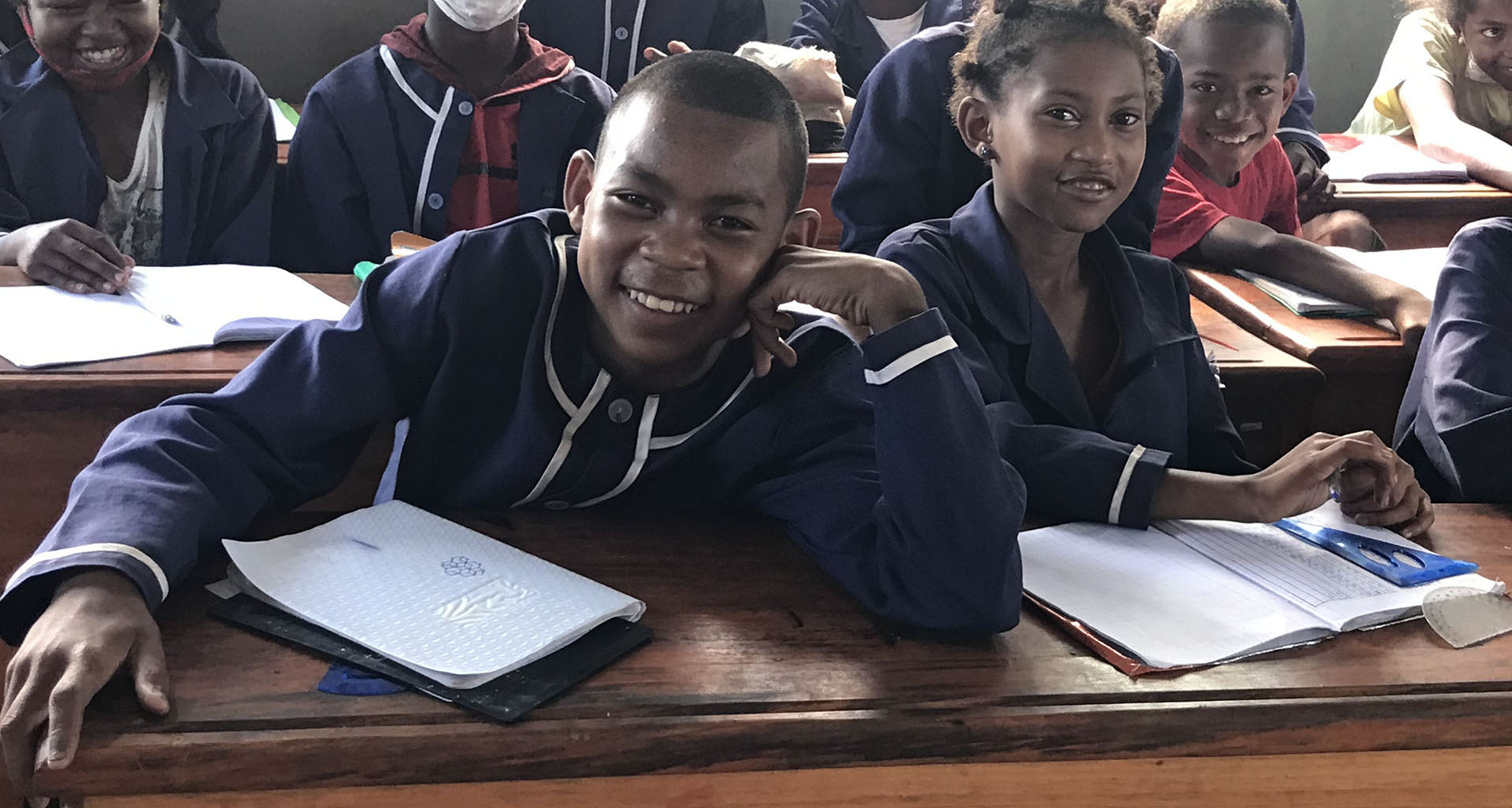 Giving Tuesday – November 28, 2023: Uplifting children in Madagascar
Giving Tuesday – November 28, 2023: Uplifting children in Madagascar
Giving Tuesday: It's not just a day, it's a movement.
Giving Tuesday was created to unite us all in a day of generosity, to make a difference in the world in any way we choose at the start of this busy holiday season.
Join the #GivingTuesday movement right now: Your donations bring more kids in Madagascar the education, healthcare, and nutrition they need
Make a donation
Madagascar is one of the poorest countries in the world with a poverty rate above 80% according to the International Monetary Fund. Over 92% of the population lives on less than $2 per day (Human Development Index). In recent decades, the population of Madagascar has grown dramatically, nearly doubling between 1990 and 2010 and reaching an estimated 30.3 million in 2023, putting the country's resources under immense stress. There is no universal healthcare coverage and only 15% of the population has access to drinking water.
Mortality rates for infants (40%) and children (59%) are at high levels due to poverty, low level of education, isolation, malnutrition, limited access to drinking water and basic sanitation, compounded by the frequency of natural disasters, all of which favor the development of diseases that kill children. These extreme conditions push thousands of children out of homes and on to the streets of cities like the capital, Antananarivo, where they face violence, hunger, prostitution, and trafficking.
The Mérieux Foundation has been working in Madagascar since 2006 to improve the living conditions of the most vulnerable and increase access to healthcare and diagnostic testing. The permanent office in the capital city of Antananarivo has 6 Malagasy employees who work closely with other partners, including non-governmental organizations delivering key services to street children – from schooling, to feeding and providing healthcare.
Three current projects require support at trusted, local associations we have worked with for decades:
Improving childcare at the Antsahatanteraka boarding school by building a dormitory
Extending the Mivaotra care center in Antananarivo
Building an infirmary at a remote school in Bemahatazana
Our generous donors help us expand the capacity of these key service providers to meet the urgent, unmet needs of children in extreme poverty in Madagascar.
New Dormitory at the Centre NRJ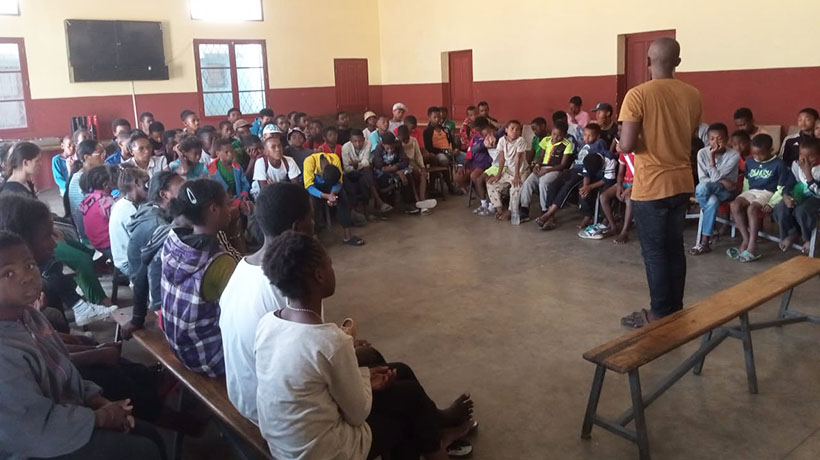 Every year, the Centre NRJ provides a full range of support services for around 350 children, from receiving emergency care or attending school to living at the center.
75 children, aged six to twelve, who would otherwise be out of school, attend classes and activities (8 am – 4 pm) during the school year
Three vocational training workshops include woodworking, pottery, and metalwork
A year-round boarding school accommodates children or young people (up to age 20) attending elementary through high school, or the center's activities and workshops
A night shelter accommodates children year-round from 4 pm to 8 am the following morning. The children are encouraged to attend literacy classes and participate in the center's activities.
In 2023, 21 girls are boarding and attending school and around 20 are in emergency care. An average of 30 boys are in emergency care each evening, and around 40 are in boarding school or undergoing vocational training.
Building a dormitory at the Antsahatanteraka boarding school will expand the current capacity to meet the need for shelter and support for a growing number of children and young people forced into the streets.
About the Centre NRJ
The Centre NRJ was created in 1988 in the working-class district of Andavamanba (known as the crocodile pool in Malagasy because of the stagnant water and stench) in the capital city, Antananarivo. It offers street children and young people a safe place to spend the night, meals, healthcare, access to literacy classes and vocational training. Staff members include educators, trainers, social workers, cooks, gardeners, and security guards.
Room for more children at Mivaotra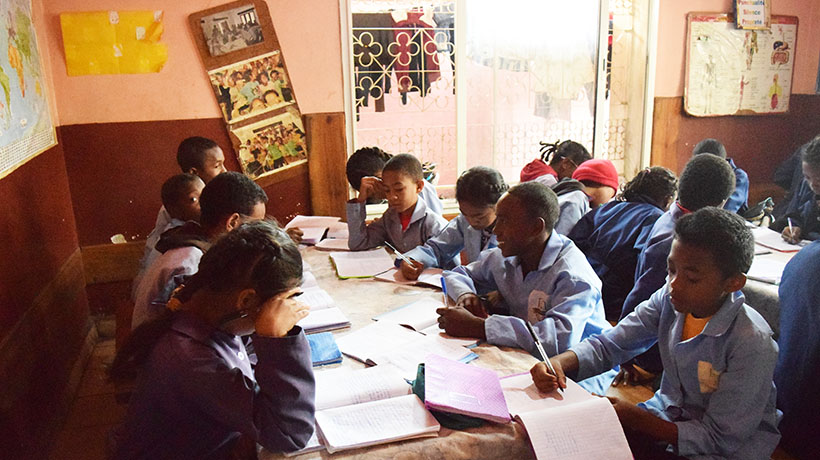 Mivaotra helps street children in extreme poverty in Antananarivo to reintegrate socially, academically and professionally. The center takes care of hundreds of children at risk, mostly from single-parent families, providing them with food (mornings and lunches), schooling (school fees and primary and secondary tutoring) and healthcare (dispensary). 301 children are currently enrolled for the 2023-2024 school year and there is need for more classrooms and accomodations to meet growing demand.
Expanding the center will increase the capacity to support street children, keep them safe, and provide food, schooling, and healthcare.
About Mivaotra
In Malagasy, Mivaotra means awakening. Since 2006, Mivaotra has taken in more than 300 street children each year from the most disadvantaged neighborhoods in Antananarivo to offer them an education and a chance for the future. Coming from very poor families deprived of all resources, these children were left to fend for themselves, threatened by all kinds of violence. Totally out of school, they begged in the streets of the Malagasy capital and did not have enough to eat. In 2022, the Mivaotra association received the Human Rights Prize of the French Republic in order to "reward the determination of the Mivaotra association to get children out of poverty and begging by allowing them to study from a very young age to higher education in a search for social justice" according to the President of the National Consultative Commission on Human Rights of the French Republic.
School infirmary at Sisters of Our Lady of La Salette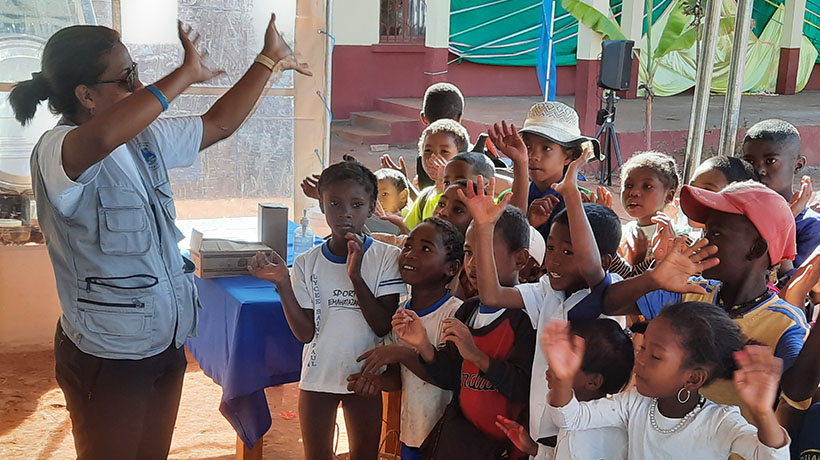 Bemahatazana is located deep in the bush, 155 miles from the capital. It takes at least 7 hours by road to get there, as the muddy tracks are very difficult to negotiate, especially in the rainy season.
The Saint Paul school welcomes around 1,000 students in Bemahatazana. 70% of the students are far from their parents, who can only visit them once a month or once a term. Their budgets are barely enough for food and school supplies. In the event of illness, they don't seek medical care because they have no money to pay for treatment, driving some young high school girls into prostitution to access care for themselves or their family.
Building an infirmary on site will address a desperate need for access to basic healthcare for children and their families.
About the Sisters of Our Lady of La Salette
The missionary sisters operate a school and a medical dispensary in a very difficult area wrought with child abuse, child rape, corruption of the police force. Feeding poor families is a priority, and the Sisters actively support agriculture as a source of income and self-realization. They teach the children how to prepare and enrich their meals with vitamins from plants. Alongside educating and delivering basic healthcare, the Sisters want the community to understand how noble it is to work the land, to promote organic farming and the importance of healthy eating.
About the Mérieux Foundation in Madagascar

The Mérieux Foundation has been working in Madagascar since 2006 to improve the living conditions of the most vulnerable and increase access to healthcare and diagnostic testing. The permanent office in the capital city of Antananarivo has 6 Malagasy employees. Activities in Madagascar include addressing nutrition through distributing and supporting local production of the RUTF (Ready-to-Use Therapeutic Food), Plumpy'Nut, and increasing access to health education in schools across the country.
In 2010, we built the Charles Mérieux Center for Infectious Diseases (CICM), a center for training, research and specialized diagnostic testing, which we donated to the University of Antananarivo. The state-of-the-art Rodolphe Mérieux Laboratory at the center conducts applied research on diseases affecting the population: leprosy, multidrug-resistant bacteria, tuberculosis, bacterial meningitis, papillomavirus and neglected tropical diseases such as schistosomiasis. This laboratory was one of the first sites in the country to perform COVID-19 testing and the first for HIV viral load monitoring to ensure that antiretroviral treatments are effective for people living with HIV in Madagascar.