News
Deployment of LabBook version 3 in the laboratories of three hospitals in Togo
Deployment of LabBook version 3 in the laboratories of three hospitals in Togo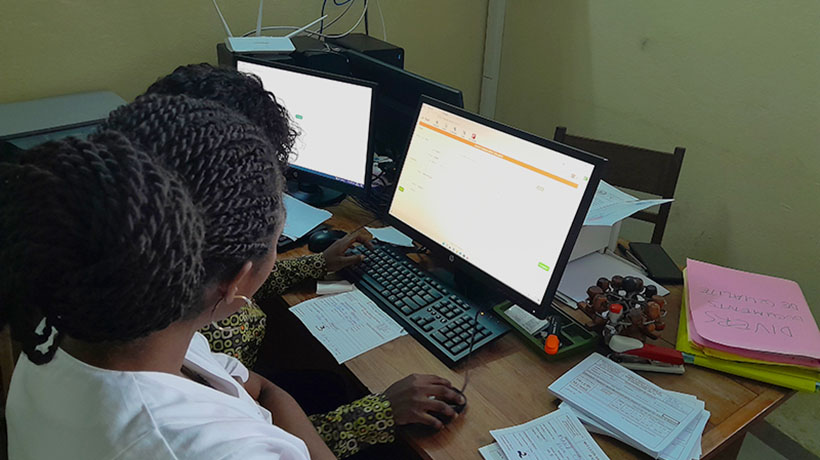 As part of phase 3 of the RESAOLAB project, version 3 of the LabBook laboratory management software is currently being rolled out in the laboratories of three hospitals in Togo. In June, an initial training workshop was held for key laboratory workers at the Hôpital du Golfe in Lomé to ensure effective use of the software before LabBook V3 was installed.
Before the training session, each laboratory was allocated the IT and office equipment required for the use of LabBook V3. The software is being rolled out one laboratory at a time, with one week devoted to each laboratory: three training days and two days to install the software and get staff started. The medical biology laboratories at the Akebou and Golfe district hospitals and at the Dapaong regional hospital were selected for the pilot phase of this project.
Four members of staff were identified in each of the selected laboratories in which the LabBook software is deployed. These are people from the laboratory department, as well as representatives of other departments involved in the management of laboratory activities, such as secretaries.
The training involves theoretical sections followed by practical exercises before launching the deployment. The Mérieux Foundation will provide follow-up and assistance in the use of the software thanks to the support of the national IT consultant appointed to the task as part of the project.
This new deployment in laboratories will make data collection and processing more secure thanks to digitalization, as well as strengthening the capacity of laboratory staff in the region's main hospitals.
About LabBook
LabBook is a laboratory data management system developed by the Mérieux Foundation to help biomedical analysis laboratories in developing countries to improve their data management and thus guarantee high-quality analysis results. Version 3.3 of LabBook was backed by the West African Network of Biomedical Analysis Laboratories (RESAOLAB) with the financial support of the AFD.
Easy to install and use, LabBook has been designed as a tool to help laboratories move from paper processes towards computerized solutions, ensuring enhanced security and reliability. Its latest version is available for free download on an open-source basis – its code is available for anyone to use, change or share.