News
From the diagnosis to the treatment of common skin complaints in general practice
From the diagnosis to the treatment of common skin complaints in general practice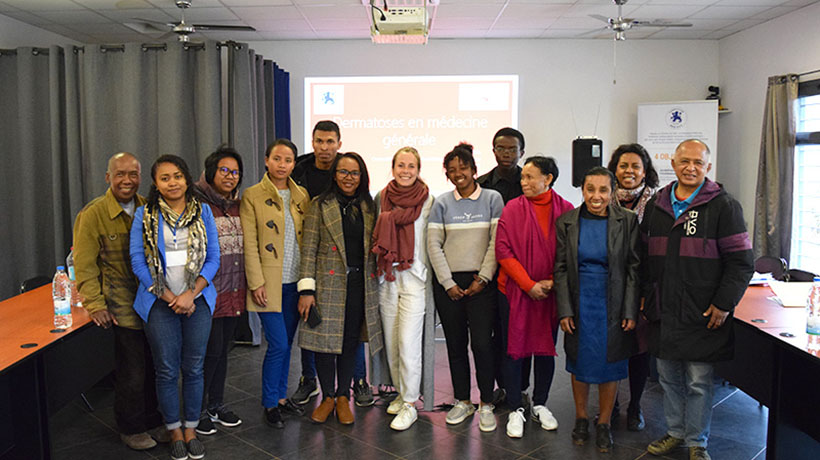 Supported by the Mérieux Foundation as part of its training activities for health workers in Madagascar and in partnership with the National Order of Physicians (Ordre National des Médecins or ONM), a training course on "Skin complaints in general practice" took place at the Charles Mérieux Center for Infectious Disease on August 4, 2023. The course was delivered by Dr Fanny Ickx, a dermatologist and volunteer at the Mérieux Foundation, to 12 general practitioners.
Dr Ickx shared the experience she gained in dealing with various skin complaints over the course of six months spent giving consultations in clinics and partner centers of the Mérieux Foundation. Her presentation provided support for general practitioners, nurses and technical staff working in healthcare in the diagnosis and suitable treatment of dermatological cases.
There are numerous cases of skin complaints in Madagascar, including scabies, which is rife in prisons, psoriasis, eczema and fungal infections. With this in mind, the training provided by Dr Ickx covered the diseases most often encountered in dermatological consultations and how to diagnose them.
"I have seen a huge number of dermatological cases during my stay in Madagascar and I have learned a great deal thanks to numerous exchanges with local doctors and during different consultations. In today's training course, I tried to cover as many as possible of the most common skin disorders encountered in general medical practice. The aim was to give participants several tools to help them on a daily basis as they diagnose and treat various skin complaints," explained Dr Ickx.
The participants in this event included doctors from the Foundation's partner organizations, a few doctors working in private practice and some medical students. The partner organizations include the Centre Mahereza in Tsaramasay, the Conseil de Développement d'Andohatapenaka (CDA), the Akamasoa medical center, the Raoul Follereau foundation, SOS Villages d'Enfants, the NGO Mobil Health, the Centre Betania health and social center in Ankasina and the Sentinelles foundation.
Dr Rakotondrajaona, a doctor working for the Sentinelles foundation who is in charge of women, young men and children at the prison in Antanimora, said: "I learned a great deal from today's presentation, especially at a time when we have so many cases of scabies to deal with at the prison. We are struggling to cope, and Dr Ickx has given us the key elements we need to find a way out of this vicious circle. All we need to do now is to put them into practice so that we can eradicate this plague. In any case, I'm delighted to have taken part in this training course, which will help me treat more skin complaints."
 'At the Mérieux Foundation, we want to strengthen the skills and knowledge of general practitioners and maybe even those of specialists in the country. The training sessions we organize regularly are not just for the doctors working at our partner organizations; they are also aimed at all health professionals who want to attend,' stressed Luciana Rakotoarisoa, project leader and Madagascar Manager at the Mérieux Foundation.
She went on to say, 'There are currently very few dermatologists in Madagascar, and they all work in the capital. Adequate healthcare isn't available for everyone, which is why we want to train general practitioners in the screening, diagnosis and treatment of skin complaints. Dr. Fanny Ickx is the third volunteer dermatologist to work with us towards achieving this objective.'