News
Inauguration of the extension to the Saint Gabriel clinic offering better access to healthcare and HIV testing in Conakry
Inauguration of the extension to the Saint Gabriel clinic offering better access to healthcare and HIV testing in Conakry
On October 18, 2022, the extension to the Saint Gabriel clinic was officially opened by Archbishop Coulibaly of Conakry. The larger facilities will allow the clinic to expand access to HIV testing and treatment.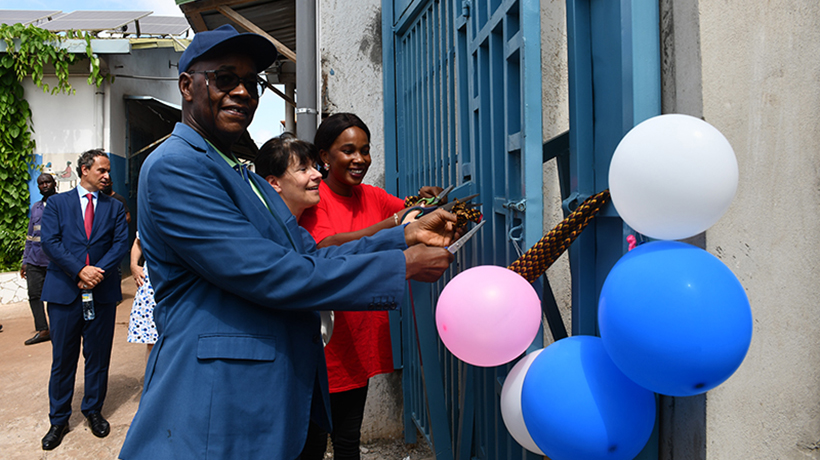 The event took place in the presence of His Excellency Marc Fonbaustier, French Ambassador to Guinea, Fatoumata Diaraye Diallo, Deputy Director of SOGEAC (Conakry airport), Laure Kerman, Director of Social Engagement and CSR Performance at Groupe ADP, Gérard Ansou Bangoura, Director of the Organisation Catholique pour la Promotion Humaine, the Managing Director of DREAM, the architect and civil engineer Emmanuel Ouamouno, Philippe Picard, Director of the Saint Gabriel Clinic, and Professor Sidiki Diakité, representing the Mérieux Foundation in Guinea.
Covering a surface area of 78m2, the additional story was financed by the ADP Foundation, the DREAM program and the Mérieux Foundation to develop facilities for people living with HIV (PLHIV). The clinic is already involved in the testing and treatment of pregnant women, working in collaboration with the DREAM program (a model for the integration of services for maternal and infant healthcare). This new space will now make it possible to admit more patients (children and adults), who are currently tested at Saint Gabriel but sent to other centers for treatment. The building extension means improvements can be made in the monitoring and treatment of patients with HIV/TB co-infection.
With the additional story, good healthcare services can now be provided for 800 people. The project thus helps to deal with HIV in the most vulnerable groups by improving access to testing and treatment. It also enables improvements to be made in the healthcare conditions for PLHIV, with the introduction of a patient pathway that protects discretion and the confidentiality of information.
About the Saint Gabriel clinic
Saint Gabriel is a primary healthcare clinic and maternity unit in Conakry, Guinea. It is one of the busiest healthcare facilities in the country, with around 100,000 people (including 55,000 children) attending the clinic each year. It is a key healthcare establishment for women seeking prenatal care (more than 6,000 women were monitored in 2021). The clinic carries out a large number of HIV tests among pregnant women and in 2012 launched a PMTCT program (prevention of mother-to-child transmission of HIV) in collaboration with the DREAM program (a model for the integration of services for maternal and infant healthcare).