News
Key West African figures in medical biology meet in Dakar for the 8th RESAOLAB International Steering Committee
Key West African figures in medical biology meet in Dakar for the 8th RESAOLAB International Steering Committee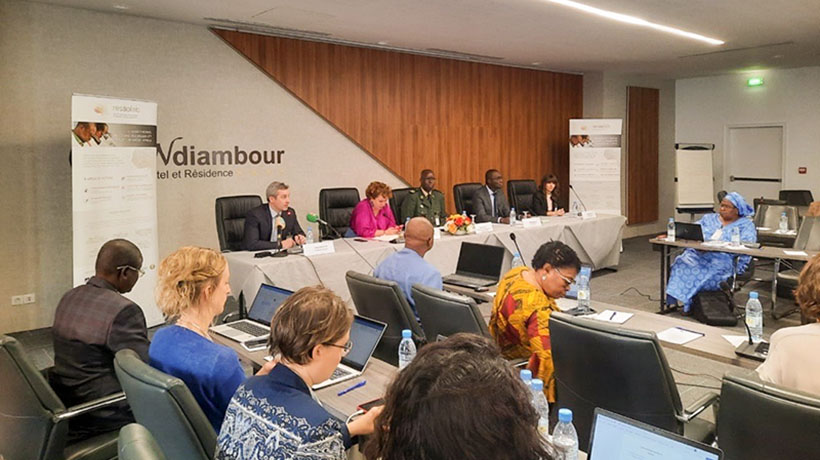 Almost 40 participants, including the main stakeholders and partners involved in RESAOLAB in Benin, Burkina Faso, Guinea, Niger, Senegal and Togo, met to discuss the third phase of the project, which was launched in Niamey, Niger, in 2019. This third phase aims to continue the development of medical biology in the seven countries, while improving regional cooperation for a coordinated and harmonized intervention approach between these French-speaking West African countries.
Chaired by Prof Dieye, Director of Laboratories and representative of the Ministry of Health and Social Action in Senegal, this annual meeting of the network was attended by coordinators, project managers and managers from the RESAOLAB member countries, as well as representatives of network partners, including: Dr. Abdourahmane Sow, representing the WAHO, Dr. Berthe Marie Njanpop, representing the WHO, Caroline Comiti from the French Embassy, Mouhamadou Sylla, representing the AFD in Senegal, and Dr. François-Xavier Babin, Director of International Operations at the Mérieux Foundation and Professor Jean Sakandé, network coordinator.
This meeting of the steering committee enabled the participants to review the activities carried out in 2022 during plenary discussions and interactive group sessions. Time was also set aside to approve action plans for 2023 and to discuss the decentralized coordination of national laboratory networks in Senegal, Niger and Guinea. Members of the RESAOLAB network were also encouraged to reflect on its identity and its future, including from the perspective of the various technical and financial partners, and to continue their reflections after the meeting.
Quotes
François-Xavier Babin, Director of International Operations at the Mérieux Foundation: "We have seen some major changes in diagnostics during this 3rd phase of the project, with more and more technical and financial partners becoming involved and communicating directly with laboratory management teams. This is a direct result of RESAOLAB's advocacy work since 2009.
There are still some considerable issues and requirements to deal with in this sector. 2022 was the first full year in which we have been able to implement our activities, following two years spent dealing with COVID-19. I would like to thank the AFD for its support since the start of the project, as well as all the other partners who were present."
Mouhamadou Sylla, head of human development, governance and partnerships and AFD representative in Senegal: "COVID-19 was a brutal reminder of the role played by diagnostics in health systems, especially when it comes to detecting and preventing epidemics. Reinforcing the laboratory sector is a priority for the AFD as a key part of its health strategy. Capacity building is essential to address current health challenges for which RESAOLAB is a model in its mode of intervention
We would like to thank the Mérieux Foundation for the quality of its partnership and for organizing the steering committee. We also commend the work of project partners over the last few difficult years, especially the laboratory directors who have defined and implemented the project activities."
Caroline Comiti, Regional Health Consultant and representative of the French Embassy: "Strengthening health systems is a priority for France, and this has been reaffirmed following the COVID-19 crisis. This is part of a global healthcare strategy, with contributions to some major funds (Global Fund, UNITAID, Gavi fund). These contributions have been made subject to the reinforcement of healthcare systems, with support for introducing International Health Regulations, and with strengthening laboratories to help prevent epidemics and provide patient care."
Prof Dieye, Director of Laboratories in Senegal and representative of the Ministry of Health and Social Action: "Laboratories are at the start, middle, and end of patient care and without them, doctors would be completely in the dark. Support in response to COVID-19 has allowed the decentralization of testing at the National Public Health Laboratory in the Thiès region, as well as the reinforcement of laboratory equipment. Laboratories are important, not just for monitoring epidemics, but also for providing high-quality diagnosis for patients so that the right care can be provided. Senegal's objective is to have an expert laboratory in each region of the country."
About RESAOLAB
A system of medical biology laboratories providing high-quality services is an essential requirement for improving population health. RESAOLAB – the West African Network of Biomedical Analysis Laboratories – is the first regional programme in West Africa to provide a response to this public health concern. Designed with West African healthcare stakeholders, it takes into consideration all the factors affecting the laboratories' governance and performance. Its objective is to improve the quality of medical biology services in these seven West African countries, by reinforcing their laboratory systems with a multifaceted regional approach.
RESAOLAB is an innovative network that aims to enhance access to quality diagnostics for vulnerable people in seven West African countries. The project was initiated by the Mérieux Foundation in 2009, in collaboration with the Ministries of Health of Burkina Faso, Mali and Senegal. Four countries joined the network in 2013: Benin, Guinea, Niger and Togo. The project entered its third phase in 2019 as part of a partnership between the Mérieux Foundation and the Agence Française de Développement (AFD), in order to continue to reinforce laboratory systems.
Since its launch in 2009, RESAOLAB has enabled the deployment of major programmes for ongoing training activities, the construction and provision of equipment for training and quality assurance laboratories and the introduction of epidemiological surveillance systems.
The network has been heavily involved in dealing with the COVID-19 crisis from 2020 onwards. Thanks to an additional grant awarded by the AFD (Agence Française de Développement), RESAOLAB made it possible to develop response strategies for laboratories, by drawing on its expertise with partners.
RESAOLAB in Senegal
Senegal has been a member country of RESAOLAB since 2009. Since its launch, the project has contributed to the creation of a National Laboratories Directorate, the renovation of several training centers and the construction of a National Public Health Laboratory (LNSP). Initial and ongoing training for laboratory staff has been reinforced and the laboratories now benefit from supervision as part of a national quality plan.