News
Mali: Phase 2 launch of the LABOMEDCAMP country medical laboratory project
Mali: Phase 2 launch of the LABOMEDCAMP country medical laboratory project
The official ceremony to launch phase 2 of the LABOMEDCAMP project took place at the Charles Mérieux Center for Infectious Disease on April 5, 2017.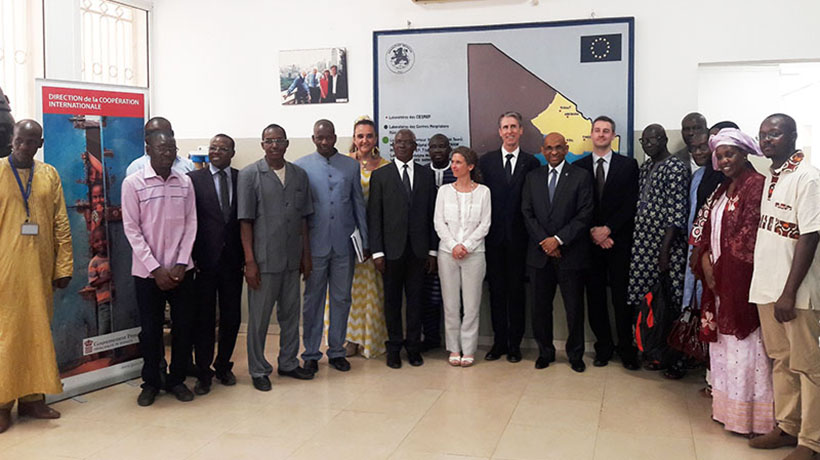 The aim of LABOMEDCAMP (which stands for "Laboratoire Médical de Campagne", or country medical laboratory) is to improve the quality of infectious disease diagnosis by setting up small laboratories in community health centers in Mali.
During phase 1 of the project, which started in 2011, 10 new laboratories were installed at 10 community health centers in the Kayes, Koulikoro and Ségou regions.
Improving medical care in rural areas
In 2014, the laboratory technicians attended training sessions as part of Ebola crisis management by RESAOLAB and a quality supervision mission was conducted.
Based on the project's outcomes, which included the incorporation of the 10 laboratories into the national quality control and epidemiological surveillance systems, the partners agreed to launch a second phase on the strength of these results.
Phase 2 will run from May 2017 to 2020. The aim will be to strengthen and help improve medical care in rural areas through high-quality diagnosis and monitoring in front-line laboratories. During phase 2, the project team will seek to make the phase 1 laboratory activities viable and extend the initiative to eight laboratories in the Kayes, Mopti, Ségou and Sikasso regions (two per region).
Bringing laboratories up to standard under a national network
Ultimately, the LABOMEDCAMP project will:
build the capacities of laboratory technicians and physicians working at community health centers
bring laboratory equipment and biosafety conditions up to standard
improve integration of these front-line laboratories into national laboratory network activities.
Mr. Tonelli welcomed the new agreement, which reflects a shared desire among all stakeholders to build on the accomplishments of phase 1 of the project and bring high-quality medical care to as many people as possible.
LABOMEDCAMP is funded by Monaco's Department of International Cooperation and the Mérieux Foundation. The project is implemented by the Mérieux Foundation, working in partnership with Mali's Ministry of Health and Public Hygiene, NGO Santé Sud, the Charles Mérieux Center for Infectious Disease in Mali, and the Association des Médecins de Campagne.