News
Mobile laboratory deployment exercise in Burkina Faso to strengthen biosecurity capacities of G5 Sahel countries
Mobile laboratory deployment exercise in Burkina Faso to strengthen biosecurity capacities of G5 Sahel countries
The Mérieux Foundation, in partnership with the Bundeswehr Institute of Microbiology (IMB), conducted a deployment exercise for a mobile laboratory in Burkina Faso in early November. The training was part of the G5 Sahel Biosecurity Network activities involving Burkina Faso, Mali, Mauritania, Niger and Chad.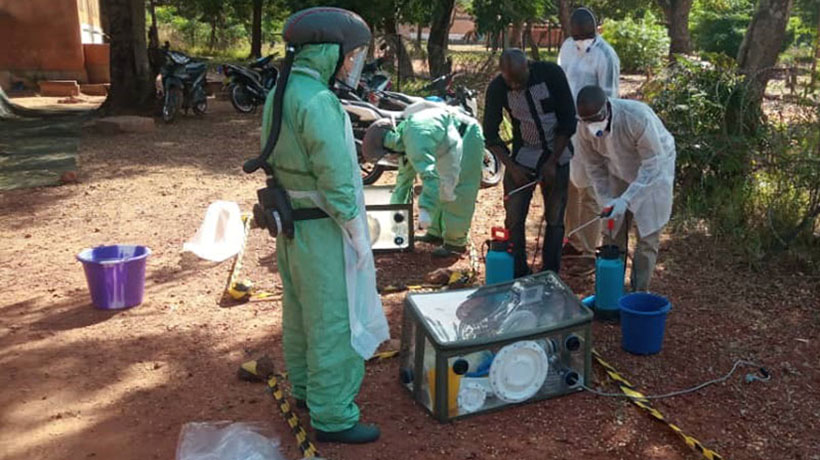 Two teams (one from the G5 Sahel countries and the other from Tunisia) were confronted with a fictitious biological emergency, to prepare for an immediate and effective response to new outbreaks.
The simulation exercise is designed to strengthen the diagnostic capacities of the G5 Sahel countries and Tunisia by training rapid intervention teams. They are prepared to follow procedures for operations and manage crises in the field to act quickly in the event of threats.
As part of its mission to build up capacity to fight infectious diseases, the Mérieux Foundation supports the G5 Sahel initiative by providing two mobile laboratories, based at the Charles Mérieux Center for Infectious Disease of Mali, and offering technical and practical training on the use of the laboratories. The first mobile laboratory was given to the Malian authorities in 2014 and a second mobile laboratory was added in 2018, benefiting all G5 Sahel countries.
The use of these mobile laboratories allows health professionals in these countries to quickly diagnose highly pathogenic diseases with potentially serious consequences for the health and safety of the population.
The 2014 Ebola virus disease crisis highlighted the vulnerability of the G5 Sahel countries to infectious disease outbreaks. To strengthen biosecurity infrastructure in partner countries, and prevent the development of crisis situations, the network provides an institutional framework for coordinating and monitoring regional cooperation on development and security policies. The network is funded by the GIZ (German Federal Enterprise for International Cooperation) as part of the German Partnership Programme for Excellence in Biological and Health Security from the German Ministry of Foreign Affairs.