News
New study published by the HINTT team on the evaluation of a ground-breaking test for pulmonary tuberculosis
New study published by the HINTT team on the evaluation of a ground-breaking test for pulmonary tuberculosis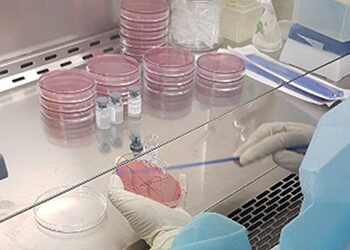 The results of the study show that the test performance meets the WHO benchmark (i.e. the Targeted Product Profile) insofar as regards test sensitivity and specificity.
HINTT is a research consortium set up in 2017 as part of the GABRIEL network. It has just published the results of a clinical evaluation of RISK6 – a blood test developed for screening and monitoring the treatment of patients suffering from pulmonary tuberculosis.
Published in Scientific Reports, Nature Publishing Group , the study discusses the evaluation of how well this new diagnostic test for tuberculosis performs. Unlike conventional tuberculosis screening tools, which use sputum-based tests, RISK6 is a blood test that could improve screening for certain forms of tuberculosis that have been difficult to identify until now (e.g.: paediatric tuberculosis).
The RISK6 test was assessed for adult patients with pulmonary tuberculosis, patients with a latent TB infection, and healthy donors. RISK6 was evaluated using quantitative real-time PCR as part of a technology transfer managed by the Mérieux Foundation within the HINTT research consortium.
About HINTT
Launched in 2017, the HINTT project (which stands for HBHA-IGRA New Tool for Tuberculosis) is a multi-centre clinical evaluation of the immunodiagnosis test for tuberculosis organised within the GABRIEL network, in partnership with research teams based in Lebanon, Madagascar, Paraguay, Georgia, and Bangladesh. The project came about as the result of observations of the high treatment failure rate for patients infected with what are known as multidrug-resistant strains of Mycobacterium tuberculosis, partly linked to the adverse side effects and the length of treatment. The tendency to renounce and discontinue treatment negates all efforts to halt the spread of the epidemic.
HINTT was set up to identify and assess immunology tools developed to screen for tuberculosis and to monitor the effectiveness of tuberculosis treatment with a view to helping clinical practitioners provide adequate treatment for the people most at-risk, improve patient outcomes, and reduce the spread of multidrug-resistant forms of tuberculosis.