News
Serge Eholié and Xavier Anglaret winners of the 2017 Christophe Mérieux Prize: rewarding infectious disease research in Côte d'Ivoire
Serge Eholié and Xavier Anglaret winners of the 2017 Christophe Mérieux Prize: rewarding infectious disease research in Côte d'Ivoire
The 2017 Christophe Mérieux prize has been awarded to Serge Eholié and Xavier Anglaret of the Centre de recherche sur les maladies infectieuses et pathologies associées (Center for Research on Infectious Diseases and Associated Pathologies) in Abidjan (Côte d'Ivoire).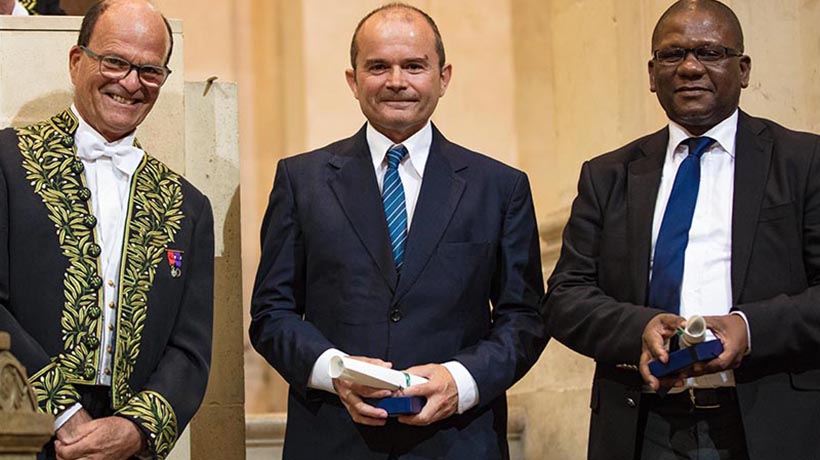 Serge Eholié and Xavier Anglaret together manage a team that was founded in 1994 and is made up of highly respected Ivorian and French researchers. The team has two main roles: conducting infectious disease research to improve the health of the population and training young scientists in medical research. These multidisciplinary studies combine clinical medicine, biology and medical sciences with international research organizations.
Over its 23 years of activity, the team has expanded and today carries out studies in 15 countries, 11 of which are in Africa. Its research programs now include all types of infectious disease with epidemic potential, including Ebola virus disease. Thanks to its clinical research experience, this team was one of the rare teams in the world able to mobilize rapidly during the Ebola virus epidemic in 2014 to carry out therapeutic trials in Guinea.
Since 1996, the team has run 83 studies, published 438 scientific articles and trained 80 Master's degree researchers and 30 PhD researchers. The team has also opened two large healthcare centers in Abidjan where thousands of people are being cared for today.
Every year since 2007, the Fondation Christophe et Rodolphe Mérieux has awarded the Christophe Mérieux Prize to a researcher or team of researchers studying infectious disease in developing countries. The Institut de France selects the winner from a list of personalities in the field proposed by the Mérieux Foundation. Winners receive 500,000 €.