News
Support for laboratory professionals continues in Lao PDR
Support for laboratory professionals continues in Lao PDR
As part of several Mérieux Foundation's projects, assessment and training missions have been carried out in Lao PDR to support the development of laboratory teams' skills, which is an essential step in guaranteeing sustainable strengthening of the country's laboratory capacities.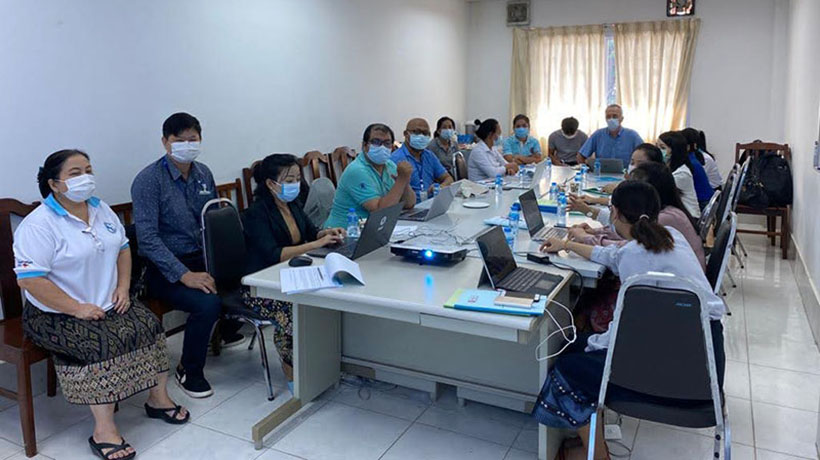 Assessing the skills of human and animal health laboratories
For two weeks, an evaluation mission was conducted in the northern provinces of Lao PDR by members of the Mérieux Foundation to assess the level of commitment of four laboratories in the framework of the Fleming Fund Country Grant 2 and SEALAB projects.
To accomplish these activities, the project members were accompanied by a team from the National Center Laboratory and Epidemiology (NCLE). The objective was to know the level of competence of three human health laboratories – hospital laboratories in Sayaboury, Luang Prabang and Oudomxsai – and one animal health laboratory in Luang Prabang.
Despite the disparities in skills from one laboratory to another, there was a real desire to improve professional practices through training and support in the acquisition of laboratory equipment and reagents. The difficulty of local organization and the distance of the laboratories from the capital Vientiane make it difficult to provide continuous training to local professionals, who have been busy for several months with the diagnosis of COVID-19, which is decentralized whenever the hospital structures in the provinces of Laos allow it.
Training laboratory technicians
Since April 2021, the Mérieux Foundation has been implementing the QWArS (Qualifying the Workforce for AMR Surveillance in Africa & Asia) project in Lao PDR and Cambodia; which proposes a training program for laboratory technicians to improve antimicrobial resistance (AMR) surveillance in human and animal health.
This project brings together nearly 20 participants each month in each country, with trainers from the Mérieux Foundation and national partner experts. The training is carried out through online modules, face-to-face modules and a 15-day "bench" practice module.
The QWArS project offers a comprehensive and in-depth training program that helps them to better understand AMR and will allow participants to obtain a validation of their new competence that will be certified as a postgraduate training. The QWArS project also offers a unique opportunity to develop a true "One Health" approach that results in direct collaboration and exchange between the veterinary and human health sectors.
This 6-month Training of Trainers (ToT) project is jointly organized by the African Society for Laboratory Medicine (ASLM), the Africa CDC, the American Society for Microbiology, the Pasteur International Network, the Institute for Health Research, Epidemiological Surveillance and Training (IRESSEF), Mérieux Foundation and the National Food Institute, Technical University of Denmark (DTU).
The objective is to identify technicians working in human health, animal health and food hygiene laboratories, to strengthen their knowledge in microbiology and epidemiology in order to train them in the future, so that public health laboratories in Cambodia and Laos can contribute to a regional surveillance of antimicrobial resistance.