News
The 23rd edition of ADVAC is a resounding success
The 23rd edition of ADVAC is a resounding success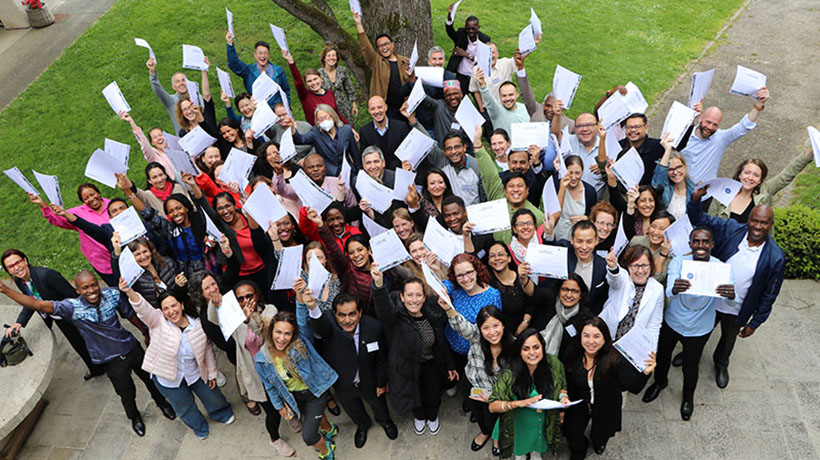 The 23rd edition of the Advanced Course in Vaccinology (ADVAC), organized jointly by the Mérieux Foundation and the University of Geneva, was held at the Les Pensières Center for Global Health from May 8 through 19, 2023, bringing together 74 new participants for training in issues related to vaccination.
The participants, representing 41 different countries, were welcomed this year by the new course director, Dr. Kamel Senouci. Dr. Senouci emphasized in particular that "ADVAC represents a unique opportunity for gaining a comprehensive overview of vaccinology to help with decision-making." He takes over from Dr. Philippe Duclos, ADVAC director since 2019.
The two-week course offers participants an overall view of vaccinology, from immunology to vaccine development and clinical trials, while addressing the social, economic, political, and ethical issues related to vaccination. Eighty world-renowned experts were on hand to lead plenary sessions, group workshops and role plays, helping participants to expand their scientific background and knowledge beyond their own fields of expertise and facilitating their critical decision-making in the field. "We can learn a great deal from bacteria. They are constantly evolving and adapting to their environment. The world is facing unprecedented challenges. Take along-term view and think globally. Be ambitious, but stay humble," Alain Mérieux, President of the Mérieux Foundation, urged the course participants.
Violaine Mitchell, director of the Immunization program at the Bill & Melinda Gates Foundation, said that "ADVAC's reputation is already well established within the Bill & Melinda Gates Foundation," before telling participants that "the future of immunization is in your hands. As leaders, you have a voice that will be heard."  At the end of the intensive two-week course, Dr. Romina Libster, associate professor at the INFANT Foundation in Argentina, was able to draw the following conclusions: "We need better, safer vaccines and we need them more rapidly. We need to make sure these vaccines are administered and that their impact can be measured. This will happen through process regulation and financial support." The participants were also able to attend the course's traditional lectures, including the 7th Lambert lecture and the 15th Plotkin lecture, respectively addressing the future of vaccines based on T CD8+ cells and monkeypox.
Once again this year, the course turned out to have a remarkable capacity for bringing its participants together to form an international network of experts. ADVAC also represents an opportunity for participants to establish valuable and sustainable professional relationships, leading to interactions and the sharing of experiences. The 74 participants who graduated from the 2023 edition join a group of ADVAC alumni made up of more than 1,350 active members.