News
The 3rd edition of the AMR course defends the values of the OneHealth approach to fighting antimicrobial resistance
The 3rd edition of the AMR course defends the values of the OneHealth approach to fighting antimicrobial resistance
Buoyed by the success of its first two editions, the third AMR course organized by the Mérieux Foundation and Paris Cité University was held at Les Pensières Center for Global Health in Annecy (France) to defend the values of the OneHealth approach and reinforce decision-making in the fight against antimicrobial resistance.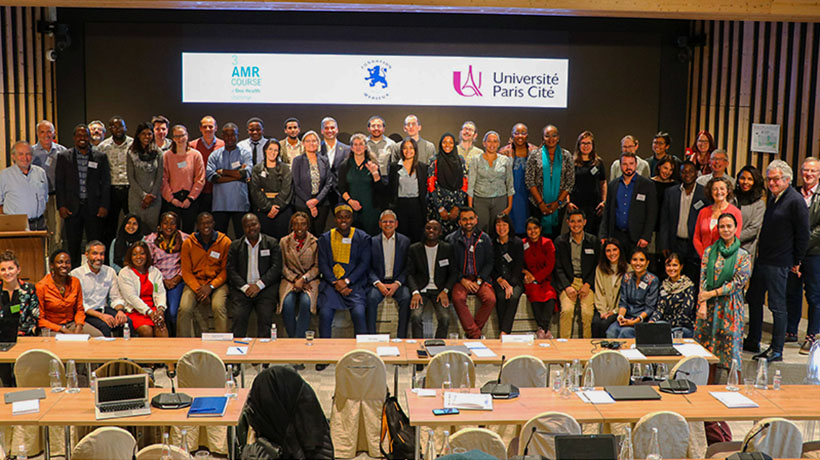 Over the course of a week, 35 participants from 23 countries and 41 experts were able to discuss the issues involved in tackling AMR from a OneHealth perspective, targeting low and middle-income countries in particular.
Based on the objectives of the World Health Organization's Global Action Plan on AMR (WHO GAP AMR), the course aims to reinforce the critical decision-making of experts in human and animal health and environmental protection. During plenary sessions, group workshops and debates, the participants were able to learn more about: 
The role of antibiotics and the current challenges: raising awareness and improving our understanding of antimicrobial resistance
Building knowledge and improving evidence through monitoring and surveillance
Interventions to tackle AMR
Optimizing the use of antibiotics in human and animal health
Policies, regulations, governance and economic arguments in favor of long-term global investment in the fight against AMR.
"[The course] is a fantastic melting pot, bringing together people from very different careers and specialist fields who deal with antimicrobial resistance – there are doctors, vets, environmentalists, people working in biological sciences, others in human and social sciences, and people who work in public health. During this course, essentially what we do is teach all these different people how to understand each other and work together to develop solutions to this highly complex problem, which requires interdisciplinary 'OneHealth' solutions," said Dr. Antoine Andremont, AMR Course Director.
This intensive course is the result of a collaboration between the Mérieux Foundation and Paris Cité University to support the WHO GAP AMR action plan. Antimicrobial resistance poses a growing threat to global public health, putting the prevention and treatment of bacterial diseases at risk. The World Health Organization's Global Action Plan on AMR (GAP) and the global One Health strategy make raising awareness and understanding of antimicrobial resistance a priority, considering it to be essential for the adoption, deployment, and implementation of national programs.
"Raising people's awareness of AMR is vital, especially among the general public, mothers, prescribing practitioners and all those on the front line," said Dr Valentina Picot, Course Director and Head of Public Health Initiatives and Expertise at the Mérieux Foundation.