News
The Mérieux Foundation and Santé Monde/CCISD present their intervention results at the end of the second REDISSE mandate
The Mérieux Foundation and Santé Monde/CCISD present their intervention results at the end of the second REDISSE mandate
Final presentation workshops were organised in Benin, Mali, Mauritania, Niger and Nigeria to capitalise on the results of the second mandate of the Mérieux Foundation and Santé Monde/CCISD awarded as part of the REDISSE project.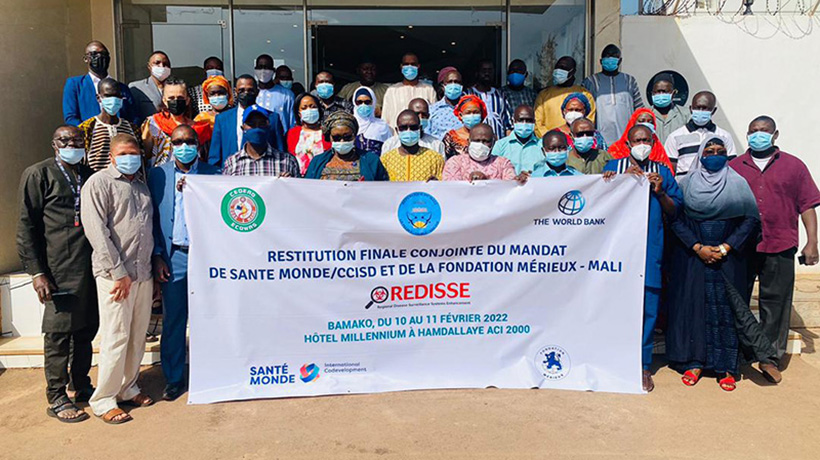 Starting in March 2020, the second mandate of the Mérieux Foundation and Santé Monde/CCISD aimed to strengthen the capacities of laboratory and epidemiological surveillance staff within the Epidemiological Surveillance Centres (ESCs), with the active participation of the relevant national authorities.
These presentation workshops brought together project stakeholders to ensure the commitment of health authorities and to reinforce the appropriation of the results of the support of the Mérieux Foundation and Santé Monde/CCISD by the five participating countries. In particular, the workshops provided an opportunity to:
Present the levels of functionality of the enhanced ESCs under REDISSE and the difficulties identified,
Describe the level of involvement of the animal health and environment sectors in a One Health approach for improved surveillance activities in the health districts covered by the project,
Demonstrate the applicability of the knowledge acquired by district surveillance officers
Identify recommendations to ensure the optimal and sustainable functioning of ESCs.
At the end of this second mandate, 60 additional ESCs were reinforced, including 10 in Benin, 10 in Mali, 10 in Mauritania, 10 in Niger and 20 in Nigeria. The final presentation workshops highlighted the success of the project in ensuring the optimal functioning of the ESCs, in particular through the collaboration between the laboratories and the monitoring teams.
"The project has mainly contributed to the strengthening of teamwork […], so that we can really notice the difference between these districts (ESCs) and those that have not benefited [from the REDISSE project]," underlined Dr Abache Ranaou, Secretary General of Public Health, Population and Social Affairs in Niger, at the opening of the final workshop held on 21 and 22 February in the country.
ABOUT REDISSE
The REDISSE (Reinforcement of Disease Surveillance Systems) project was initiated by the Economic Community of West African States (ECOWAS) and the West African Health Organisation (WAHO) with support from the World Bank, in order to prevent the emergence of new epidemics and other public health emergencies or to provide an appropriate response to them.
Within this framework, the Mérieux Foundation and Santé Monde (formerly CCISD) were mandated to set up the ESCs, in particular by building the capacities of laboratory staff.
The first mandate, from 2017 to 2019, successfully strengthened the surveillance capacity of 47 health districts in Guinea, Guinea-Bissau, Liberia, Sierra Leone and Togo.