News
The Mérieux Foundation and the Pasteur Center in Cameroon are the co-organizers of the 12th international meeting of the GABRIEL scientific network
The Mérieux Foundation and the Pasteur Center in Cameroon are the co-organizers of the 12th international meeting of the GABRIEL scientific network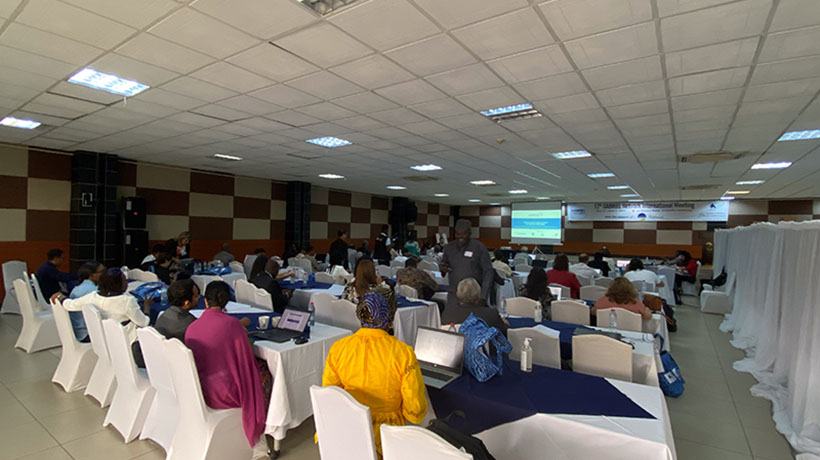 The 12th meeting of the international GABRIEL network, organized jointly by the Pasteur Center in Cameroon and the Mérieux Foundation, with financial support from bioMérieux and Illumina, took place from May 31 to June 2, 2023. Organized every 18 months, the meeting was attended this year by 80 participants from more than 15 countries, allowing them to present the results of their collaborative research work and develop future projects for the network.
Taking place over three days, the international meeting started with a symposium on the first day, with the second and third days devoted to meetings of a select committee made up of members of the network. The symposium was organized into four sessions, shedding light on how to prepare for epidemics of emerging and re-emerging pathogens, the surveillance of emerging pathogens at the human-animal interface, vector-borne diseases and neglected diseases. The first day of the event was attended by a number of scientists from Cameroon.
The discussions over the last two days were devoted to the research topics developed within the GABRIEL network to enable public health interventions: tuberculosis, acute respiratory illnesses, antimicrobial resistance and emerging pathogens.
"[The GABRIEL meeting] represents a great opportunity to discuss the results we've obtained on infectious diseases, in particular acute respiratory infections, tuberculosis and antimicrobial resistance (AMR). For example, the results on AMR show a very high level of prevalence in all three sectors – human, animal and environmental – which means we can consider it to be a silent pandemic," said Florence Pradel, coordinator of the GABRIEL network and head of antimicrobial resistance at the Mérieux Foundation.
The GABRIEL young scientists' prize, which was set up to support the career development of promising young scientists in the network, was awarded this year to two researchers:
Clausjeans Chastel Mfoutou Mapanguy from the Congolese Foundation for Medical Research, based in Brazzaville in the Republic of the Congo, for his paper "Genomic surveillance of SARS-CoV-2 and other pathogens in the Republic of the Congo"
Nono Vanessa Ninkeh from the Pasteur Center in Yaoundé, Cameroon, for her work on the prevalence of isoniazid-resistant strains of Mycobacterium tuberculosis in clinical isolates, for which the resistance mechanism is unknown in Cameroon.
About the GABRIEL network
The GABRIEL network was set up by the Mérieux Foundation in 2008 and now has 21 member laboratories in 16 countries in Africa, South-East Asia, the Middle East, South America and the Caribbean. The network comprises Rodolphe Mérieux Laboratories, local reference laboratories and academic, university or hospital research institutes. This international scientific network works in synergy to develop research and training capacities and to improve the surveillance of diseases having a major impact on public health in low income countries.