News
The Mérieux Foundation and USAID hold a training workshop on SARS-CoV-2 PCR tests
The Mérieux Foundation and USAID hold a training workshop on SARS-CoV-2 PCR tests
The Mérieux Foundation in Madagascar and USAID, the United States Agency for International Development, are holding a knowledge-sharing and training workshop on the pre-analytical phase for SARS-CoV-2 PCR test samples, at the Chamber of Commerce in Mahajanga.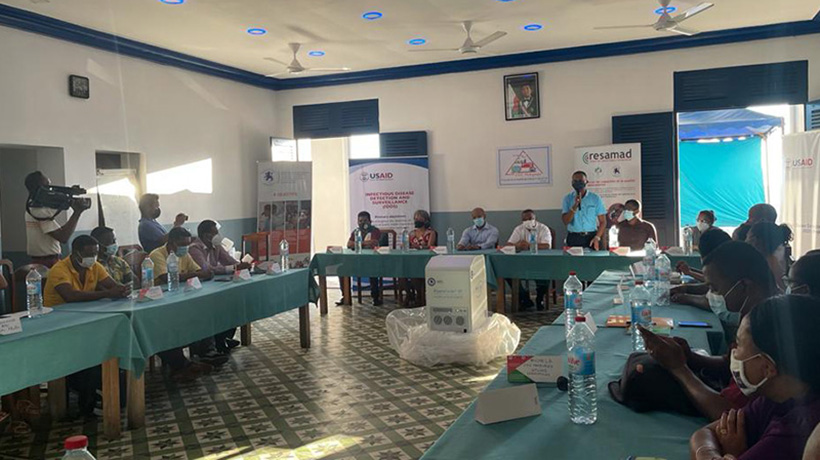 Following a review of the COVID-19 epidemic in 2020 and 2021 in the Boeny region, participants will be trained in how to take PCR test samples, then in packaging and sending them off for processing. Other topics include patient follow-up and contact tracing, as well as problems that may arise while taking and transporting samples.
Aimed at doctors and paramedics, this CPD workshop is being held to improve screening for COVID-19 in Madagascar, in a bid to halt the spread of the virus on the island.
To improve the diagnosis of SARS-CoV-2 as well as other viral infections, such as dengue, and bacterial infections, such as plague and hospital-acquired infections, an RT-PCR platform has also been donated to the PZAGA University Hospital Centre laboratory by the members of the project consortium.
Both these events are being held as part of the IDDS project for the detection and surveillance of infectious diseases in Madagascar.
About the IDDS project
The Infectious Disease Detection and Surveillance (IDDS) project is a five-year project funded by the United States Agency for International Development (USAID), and placed under the lead of ICF, the US global health consulting firm, in May 2018. IDDS is a global subsidy aimed at reducing the world health risks presented by infectious disease. The project is being implemented in several countries. The Mérieux Foundation, thanks to support by the Mérieux Foundation USA, is involved in the project in Madagascar, drawing on RESAMAD, the network of 24 hospital laboratories.
Among other things, IDDS aid is being used to help the government of Madagascar to set up a PCR test centre outside the capital, Antananarivo, with a view to meeting short-term diagnostic needs for accurate, reliable, and timely testing during the current COVID-19 pandemic and other epidemics in the future.