News
The Mérieux Foundation helps the Senegalese Department of Laboratories with the organization of an AMR surveillance workshop
The Mérieux Foundation helps the Senegalese Department of Laboratories with the organization of an AMR surveillance workshop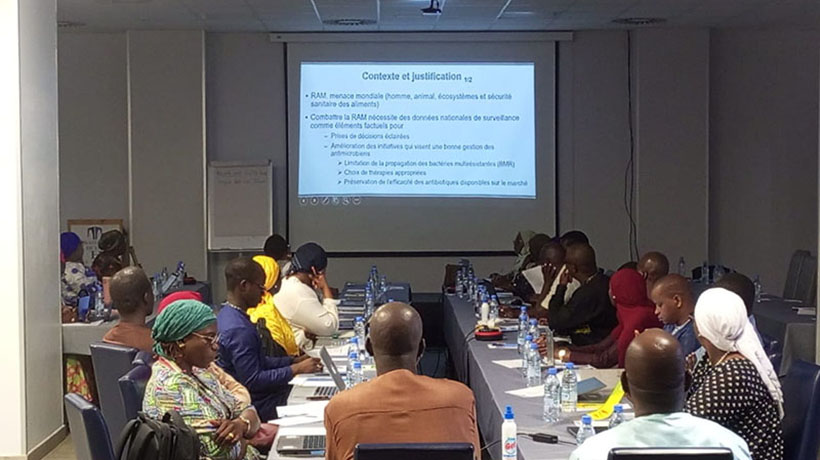 From June 13 to 16, 2023, the Department of Laboratories (DL) in Senegal organized a workshop for the formalization of reference laboratories, sentinel sites and members of the technical steering committee for the surveillance of antimicrobial resistance (AMR).
This workshop led to the definition of selection criteria and the designation of reference laboratories and sentinel sites in Senegal involved in AMR surveillance. Operating rules were also defined for the AMR surveillance steering committee so that synergies could be guaranteed between the parties involved in the multisectoral approach.
The Mérieux Foundation supported the organization of this workshop within the framework of the West African Network of Biomedical Analysis Laboratories (RESAOLAB) supported by AFD, alongside the United States Agency for International Development (USAID) via the IDDS (Infectious Disease Detection and Surveillance) program.
Holding this workshop helps with the effective coordination of the various parties involved in AMR surveillance in order to generate reliable data. The network developed in this way includes sentinel sites, whose activities cover the isolation, identification and storage of strains, as well as susceptibility testing, and reference laboratories, which play a key role in helping sites with the full identification and characterization of the bacterial strains circulating in the country.
National surveillance data generated by this network of laboratories provides factual information to help with decision-making when it comes to dealing with AMR and to develop the necessary advocacy for the mobilization of resources. This is part of Senegal's national plan for tackling AMR, which has led to the creation of an integrated surveillance manual, currently undergoing approval, which defines the microorganisms to be controlled, the antibiotics to be tested according to their multisectoral importance, and the approach to be adopted for standardized and harmonized surveillance, from the production of data to their transmission.
The laboratory surveillance of antimicrobial resistance is essential for monitoring the evolution of AMR and helps to limit the spread of multiresistant bacteria (MRB), support the choice of appropriate treatments and ensure the effectiveness of the antibiotics available on the market.