News
The Mérieux Foundation, Mérieux Foundation USA and Penn State's Applied Biological and Biosecurity Research Laboratory inaugurate their strategic partnership
The Mérieux Foundation, Mérieux Foundation USA and Penn State's Applied Biological and Biosecurity Research Laboratory inaugurate their strategic partnership
The Mérieux Foundation, Mérieux Foundation USA and Penn State's Applied Biological and Biosecurity Research Laboratory (ABRL) have signed a Memorandum of Understanding that establishes a new strategic partnership with a global health engagement footprint.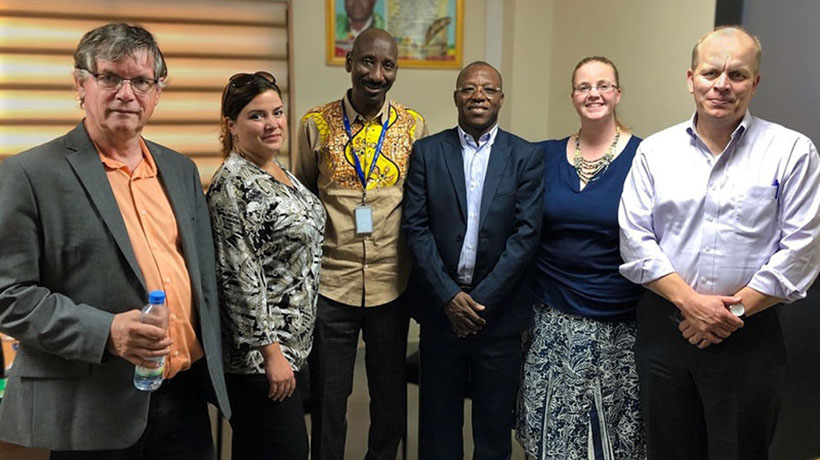 The goal of this collaboration is to advance the ability of the three organizations to design and implement integrated and sustainable capacity-building strategies in developing nations. By applying advanced, holistic interdisciplinary models involving epidemiological and laboratory-based infectious disease surveillance, disease dynamic modelling, and social intervention strategies, the partners hope to improve biosecurity while improving health conditions and reducing the economic burden of disease for host countries.
The organizations inaugurated their strategic partnership with a joint mission to Guinea, Senegal, Burkina Faso and Mali in West Africa to strengthen the fight against emerging and re-emerging infectious diseases. Local meetings were held with key academic and leading research institutions and ministry officials, including ministries of health and agriculture, and international donor organizations.
Understanding the importance of respecting and applying national and regional health development policies, directors of both the ABRL and Mérieux Foundation USA also met with the director general and the director of the disease surveillance department of the West African Health Organization to discuss how to best leverage both organizations' technical expertise in the region. During the trip, both teams made new connections, reinforcing their opportunities for integrated joint ventures and laying the foundation for expanded work in the region.
About the Mérieux Foundation and Mérieux Foundation USA
The Mérieux Foundation, an independent French family foundation with a 50-year history, and the Mérieux Foundation USA, a U.S. public charity with 501(c)(3) status, share a common mission of fighting against infectious diseases and ensuring access to healthcare for vulnerable populations. Together they work with partners in over 20 countries around the world, including many in West Africa, Southeast Asia, and the Middle East, pursuing the shared mission to strengthen the skills of healthcare professionals and researchers in the field to ensure sustainable impact. These organizations catalyze local and international initiatives to help the most vulnerable populations gain access to healthcare.
About Penn State's Applied Biological and Biosecurity Research Laboratory
Penn State's Applied Biological and Biosecurity Research Laboratory is a joint venture between Penn State's Huck Institutes of the Life Sciences and the Applied Research Laboratory. Its objective is to protect global health through a strong network of international partners. Together they perform critical research, assess risks, investigate threats, inform policy and work to build global capabilities for mitigating the threat of human and veterinary infectious disease emergence. Leveraging state-of-the-art interdisciplinary strategies, ABRL has ongoing programmatic engagements focusing on One Health security around the globe to create sustainable impacts. ABRL involves regional country ministries and stakeholders as well as US government agencies, global foundations and philanthropic organizations.