News
The Mérieux Foundation provides Guinea's National Directorate of Laboratories with a fleet of nine vehicles
The Mérieux Foundation provides Guinea's National Directorate of Laboratories with a fleet of nine vehicles
The Mérieux Foundation team in Guinea has given nine vehicles to the National Directorate of Laboratories of the Ministry of Health and Public Hygiene, for their regional medical biology agents.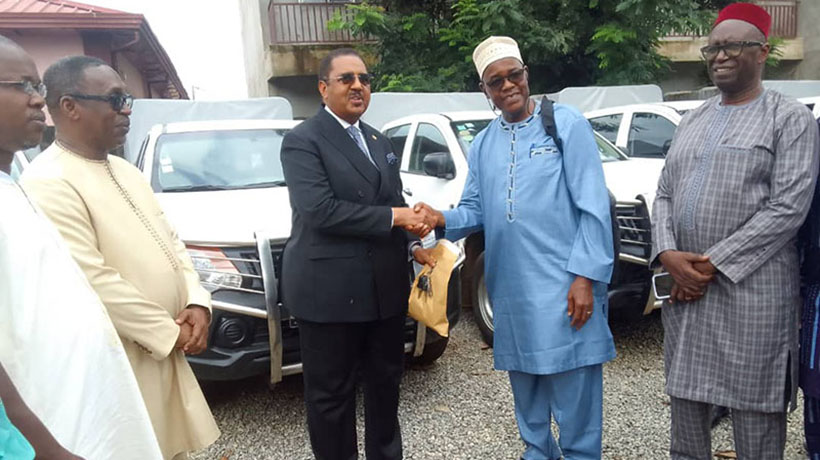 A ceremony was held to hand over the keys of the vehicles in the presence of Dr. Mamadou Pathé Diallo, Minister of Health and Public Hygiene, Dr. Mandiou Diakité, National Director of Laboratories, Dr. Hawa Diakité, President of the Administration Committee of the Donka University Hospital, and Dr. Aboubacar Sidiki Diakité, Mérieux Foundation's Guinea Country Manager.
This handing over of vehicles will allow the Directorate to continue the activities of supervision, control and support of the various field structures set up within the framework as part of the LABOGUI project, led by the Mérieux Foundation with the support of the French Development Agency – Agence française de développement (AFD), in a more sustainable and autonomous way.
"Mr. Minister, these are nine vehicles that have been restored to good condition to help carry out activities related to medical biology. I am very happy to be able to give you the keys for the good of medical biology in Guinea," said Dr. Aboubacar Sidiki Diakité.
The Minister of Health and Public Hygiene welcomed this gesture from the Mérieux Foundation, which is in line with the desire to place the Directorate at the center of the health care system in Guinea.
"Our thanks on behalf of the Government and the people of Guinea to the Mérieux Foundation, AFD and all our partners in the health sector for the successful conclusion of the LABOGUI project and secondly for the judicious choice that has just been made. We can continue to use the means, tools and resources available for this project to continue to support the process of strengthening our laboratory capacities in Guinea", he said.
About LABOGUI
In 2015, after assessing Guinea's 115 laboratories, the Mérieux Foundation was entrusted by the Ministry of Health with the implementation of the LABOGUI project, to strengthen the country's national laboratory network. This project has received financial support from Agence Française de Développement.
The Mérieux Foundation has supported the Ministry of Health in implementing the national medical biology policy by strengthening 39 prefectural and regional laboratories, improving the practices of laboratory professionals, and rehabilitating and equipping the biology technician training rooms at the Kindia National School of Health