News
The Mérieux Foundation publishes the results of lessons learned from experience with RESAMAD
The Mérieux Foundation publishes the results of lessons learned from experience with RESAMAD
The Mérieux Foundation has carried out an exercise with the network partners and stakeholders and shared the results during the Madagascar Laboratory Network - RESAMAD - Workshops, held from December 5 to 9.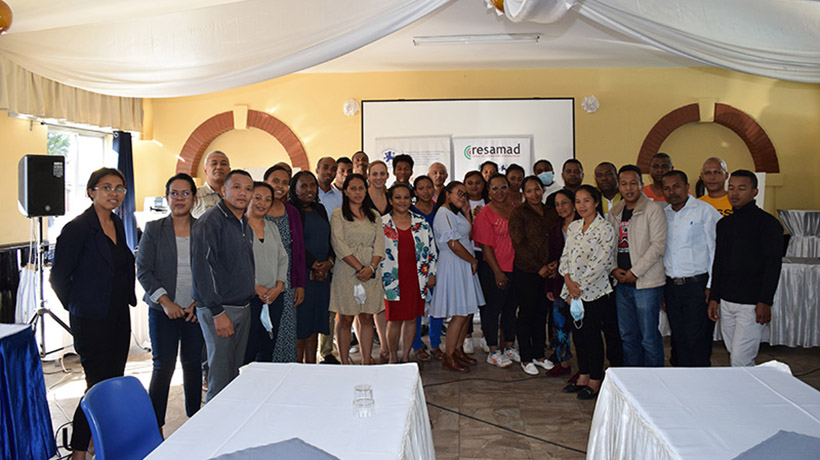 The Mérieux Foundation has carried out this exercise to find out what lessons have been learned through this experience. This should help identify the key factors for the success of the network and measure how well it has been appropriated by the stakeholders, fifteen years after the RESAMAD network was first set up in Madagascar.
This exercise consisted of a desk study as well as individual and group interviews conducted with those involved in the network and with stakeholders from the Mérieux Foundation and from the health system in Madagascar. The objective was to identify the success factors to pinpoint the networks benefits for laboratory professionals, for patient care and for Madagascar's public health.
The results of this exercise help to ensure a better understanding of the role of the network and its integration in the health system by the Ministry of Public Health. These results highlight the expertise and skills involved in setting up a network and enable others to draw on the experience of developing and monitoring a network, particularly when it comes to carrying out similar actions in other environments.
Read the report on the lessons learned from RESAMAD (in French)
About the network of laboratories in Madagascar
RESAMAD was set up in 2006 as a result of the Mérieux Foundation's support for biomedical analysis laboratories in public hospitals in Madagascar, in order to strengthen their capacities for diagnosis and patient monitoring. The Mérieux Foundation is now partner of the network, providing technical support to improve the quality of existing testing and make possible the introduction of new tests to diagnose and monitor infectious diseases.