News
The Mérieux Foundation referent of an article published in The Lancet, resulting from an international research cooperation on Antimicrobial Resistance (AMR)
The Mérieux Foundation referent of an article published in The Lancet, resulting from an international research cooperation on Antimicrobial Resistance (AMR)
Through TSARA project (an updated surveillance technique for resistance to antibiotics) in Madagascar, the Mérieux Foundation participated in a global data analysis study on Antimicrobial Resistance published today in The Lancet. The article entitled "Global burden of bacterial antimicrobial resistance in 2019," highlights AMR as a leading cause of death worldwide.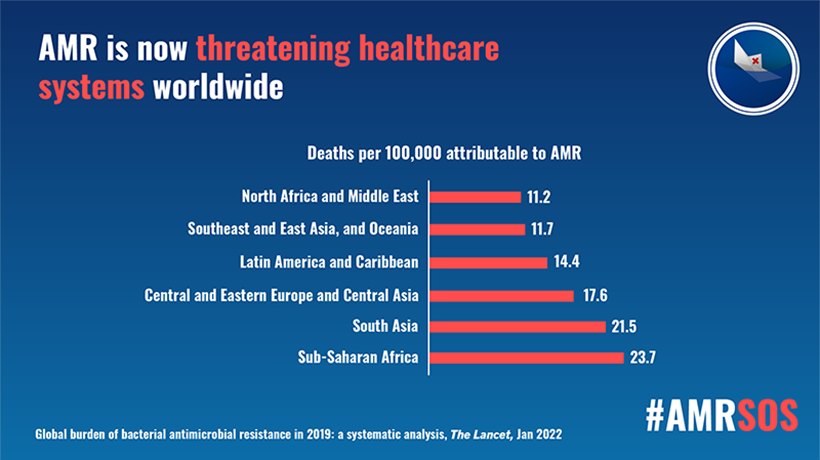 This global study analyzing clinical, microbiological and therapeutic data on AMR is published in the scientific journal "The Lancet". The aim of this research is to highlight the data collected to give governments and health systems the means to better care for patients while reducing bacterial resistance.
The Mérieux Foundation participated in this study and its publication in the scientific journal as part of the TSARA project, as a referent for Madagascar, which was until now one of the last countries absent.
This international research made it possible to meet the following objectives:
Explore these compelling new findings on the global burden of AMR and regional patterns and trends for over 88 pathogen-drug combinations;
Consider how data can be harnessed to support governments, health systems and civil society to act and reduce the human-cost of AMR;
Identify immediate actions that can help countries around the world protect their health systems against the threat of AMR;
Celebrate the global collaboration and hundreds of data partnerships that made this study possible.
Antimicrobial resistance (AMR) represents a growing threat to global public health by endangering the prevention and treatment of bacterial diseases.
In 2019, 1.27 million deaths were counted due to bacterial AMR and 4.95 million deaths associated with AMR in combinations of pathogens and drugs evaluated in this study. At the regional level, the all-age death rate was highest in the sub-Saharan African regions and lowest in Australasia.
Lower respiratory and bloodstream infections were each associated with more than 1.5 million resistance-related deaths in 2019, making them the most burdensome infectious syndromes. The six leading pathogens (in order by number of deaths with AMR: Staphylococcus aureus, Escherichia coli, Klebsiella pneumoniae, Streptococcus pneumoniae, Acinetobacter baumannii, and Pseudomonas aeruginosa) were responsible for 973,000 deaths due to AMR and 3.70 million deaths associated with AMR in 2019.
Whether death is associated with resistance or due directly to resistance, AMR is a leading cause of death around the world, with the highest burdens found in low-income settings. Understanding the burden of AMR and the leading pathogen–drug combinations contributing to that burden globally is critical to making informed and location-specific policy decisions around AMR prevention, control, and treatment. This study will allow policy makers to evaluate AMR policies and prioritize strategies that address the most important pathogen–drug combinations in the most heavily impacted and vulnerable locations.
About TSARA
The TSARA project was launched in 2018 as part of a research cooperation between the Mérieux Foundation and the University of Oxford. Its objective is to limit the development and transmission of bacterial resistance by offering the best possible care to hospital patients in Madagascar.
TSARA therefore targets one of the main causes of bacterial multi-resistance: the excessive consumption of antibiotics (+35% worldwide between 2000 and 2010 according to a publication in the Lancet Infectious Diseases/2014).
TSARA draws on synergies of expertise between laboratory and clinical staff in hospitals to rationalize the prescription of antibiotics. In practice, this involves enhancing coordination between the results of microbiological analyses and the prescription of antibiotics by doctors. The project is operating at five hospitals: three university hospitals in Antananarivo, one in Toamasina and one in Fianarantsoa. Initiative awarded the International Society for Infectious Diseases Innovation Award in Antibiotic Stewardship. The project will be extended to the 13 laboratories of the RESAMAD network during 2022.
Initial results demonstrate that in a significant proportion of cases, antibiotics prescribed in a probabilistic way were not effective according to data from the antibiogram and the de-escalation possible in a large proportion of treatments. In concrete terms, physicians modified the majority of their initial probabilistic antibiotic treatments.
TSARA is an operational project with an innovative approach and is set to be rolled out rapidly to other countries in which the Foundation operates.