News
The Pasteur Center in Cameroon and the Mérieux Foundation inaugurate the Hygiene and Environment Laboratory in Yaoundé
The Pasteur Center in Cameroon and the Mérieux Foundation inaugurate the Hygiene and Environment Laboratory in Yaoundé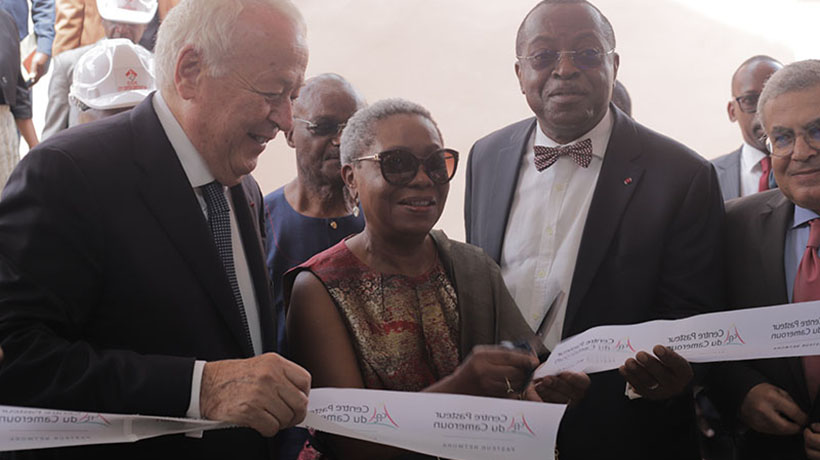 The new water, food and environment analysis laboratory building, which was inaugurated during a ceremony on June 1st, 2023, in Yaoundé, will help tackle infectious diseases in Cameroon and contribute to advances in public health research.
The building's inauguration ceremony was attended by Prof. Louis Richard Njock, Secretary General of the Ministry of Public Health in Cameroon, and Dr. Mirdad Kazanji, Managing Director of the Pasteur Center in Cameroon, as well as the First Counselor of the French Embassy in Cameroon, WHO country representatives, Alain Mérieux, President of the Mérieux Foundation, and Jean-Pierre Bosser, Director General of the Mérieux Foundation.
Now operational, this laboratory ensures, in particular, the analysis of food and water for greater public health and to guarantee the quality and safety of food products marketed by manufacturers.
"At a time when Cameroon faces public health emergencies, this laboratory is a tool for international health standards in the health system and contributes to food safety," pointed out Prof. Njock.
The Mérieux Foundation helped build and equip the laboratory.
"This laboratory is a reflection of the commitment I made four years ago. It is now complete and wonderfully complements the work done by the Pasteur Center. Expertise in food, water and environmental elements was missing. This required different technologies and a specific laboratory. I was delighted to see that the laboratory has, as of today, been operational for one month," stated Alain Mérieux.
This trip to Yaoundé was also an opportunity for the Mérieux Foundation delegation to attend the inauguration of the new laboratory at the Institut de Recherche Scientifique et Médicale (ISM) in Yaoundé, led by Prof. Joseph Kamgno, winner of the 2022 Christophe Mérieux Prize. The ISM will facilitate training and research in the fight against infectious diseases in Cameroon.