News
The second edition of the AMR intensive Course puts Antimicrobial Resistance at the center of discussions
The second edition of the AMR intensive Course puts Antimicrobial Resistance at the center of discussions
The Antimicrobial Resistance (AMR) Intensive Course was held from November 1 to 5, 2021 at les Pensières Center for Global Health, France, to build capacity for decision-making on this public health priority, particularly in middle- and low-income countries.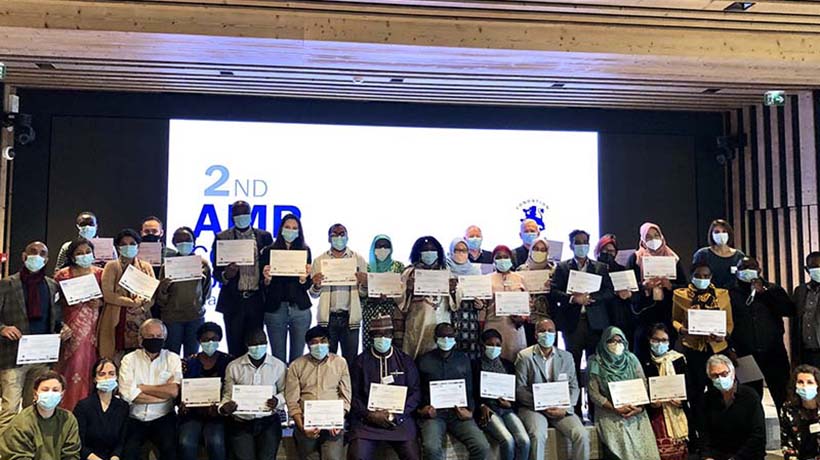 Co-organized with the University of Paris, this second edition of the intensive course brought together 37 participants from 20 countries around five objectives addressed in plenary sessions, round tables and workshops:
The role of antibiotics and current challenges: improving awareness and understanding of antimicrobial resistance
Strengthening knowledge and evidence through monitoring & surveillance
Interventions to tackle AMR
Optimizing the use of antimicrobial medicines in human and animal health
Policy-regulation-governance and the economic case for global sustainable investment to tackle AMR
Defending the values of the One Health approach to combating AMR, the course promotes the development of critical decision-making capacity in low- and middle-income countries through training, partnerships and networking.
Personalities
Ramanan Laxminarayan
Timothy Walsh
Jorge Pinto Ferreira
About the Intensive Course
Antimicrobial resistance (AMR) represents a growing threat to global public health by jeopardizing the prevention and treatment of bacterial diseases.
According to the World Health Organization's Global AMR Action Plan (AMR-GAP) and the One Health global strategy, raising awareness and providing information on AMR is a key priority for the adoption, deployment and implementation of national AMR programs.
To support this critical effort, the Mérieux Foundation and the University of Paris have combined their expertise, designing a course to address – from plan to action – the five AMR-GAP objectives.
The first edition of the course was held in 2019, bringing together over 33 participants from 26 countries.